Part 2- Practices for Connecting with and Loving Yourself
In Part 1 of this guide we talked about the 5 essential steps to self-love and we also looked at what can get in the way of loving yourself.
Something that became increasingly clear to me as I delved into the concept of self-love is that sometimes it doesn't look the way you'd expect.
I've been on both sides of the coaching conversation, asking and answering the question "if this were your best friend, would you treat her the same way you're treating yourself?"
That always puts things into perspective. We like to be the heroes of our own journey. We set ourselves up to do hard tasks like carry the workload of two people, push down our feelings for the sake of being polite, or wait to eat until every family member is perfectly taken care of. When we eventually wind up exhausted, having fallen short of the goal, we take the opportunity to slather on self-judgement for what we "should" be able to accomplish.
Yet in the back of our minds we know that we'd never treat our girlfriends this way.
This extends not only to what we set out to accomplish in our careers, family and relationships, we set these high expectations for our bodies. Here's where we get into trouble.
Loving yourself inevitably extends to loving your body. This is sticky territory for many of us, especially women who've grown up with impossible beauty ideals. We might be able to stand up for ourselves in relationships, but when our jeans don't fit it can set off a domino effect of shame and judgement that eventually affects our behaviour.
I've seen this time and again with my clients, some of whom seem to have a great relationship with themselves, until the scale is involved.
The love we show (or don't show) ourselves is rarely as clear as when it comes to accepting our bodies. That's because body image is the intersection of self-image and our actions namely, eating, exercise and self-talk. When one part of the equation is lacking (often self-image) the other parts are affected as well.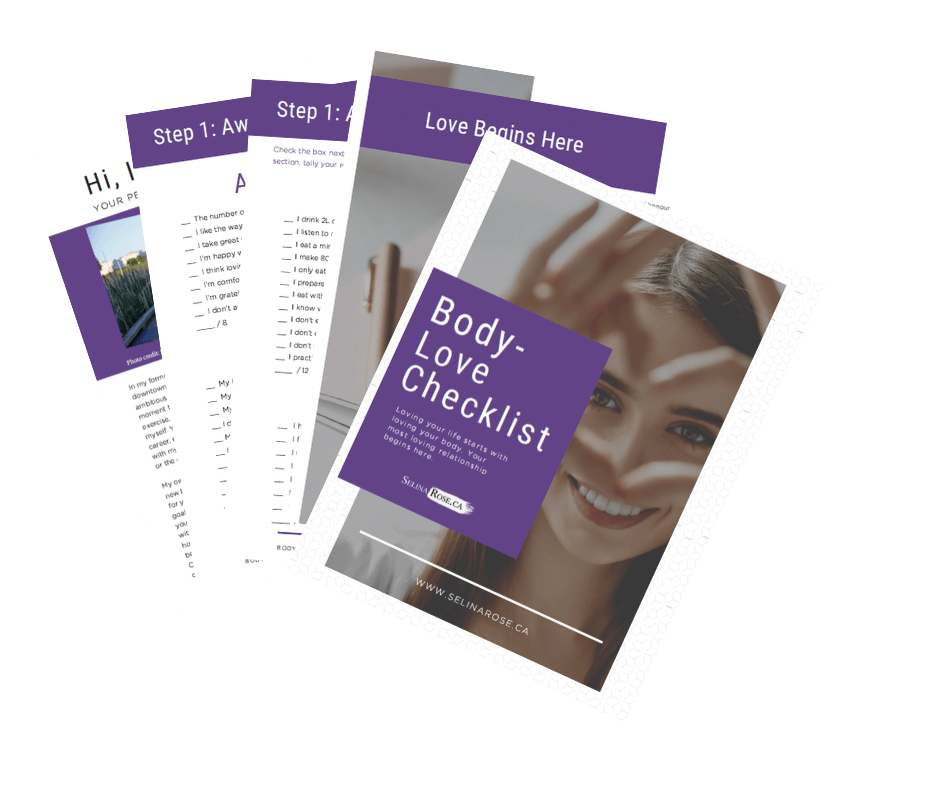 Loving your life starts with loving your body
Let go of shame and self-judgment and embrace your inner confidence with the Body-Love Checklist.
For me, learning to think positively about myself and take care of my body was the starting point for self-love. These two sides of the equation rose in equal proportion to one another.
I've seen the same thing happen for dozens of women in my Eats & Asana program where we focus on creating a healthy relationship to our bodies and food.
Our habits with food (meal choices, whether we eat, distracted eating, etc.) reveal the way we feel about ourselves. Often the thoughts we have about our bodies are unconscious, but they're acted out for us to see in our relationship to food. Other times we know something's up because of things like stress eating, emotional food cravings, or yoyo dieting.
It's important to recognize that there's something underneath the surface of your relationship to food… it's your relationship with yourself as a whole. There are several ways to invite more self-love into your life that will benefit your body, your mind and your health.
Habits for Connecting to Yourself
Being in touch with yourself is the first essential step to cultivating self-love. This happens through:
Mindfulness- slowing down enough to feel into your senses and get centered in the present moment is a great way to connect with yourself. Start small by making time each day to pause what you're doing, take a few deep breaths and bring your awareness into the present moment. Mindfulness is a muscle that will grow as you prioritize connecting with yourself.
Eating well- the ultimate sign of self-respect is taking great care of your body by choosing your fuel wisely. Eating well is a daily step you can take to ensure that you have the energy, mental clarity to do the things you love to do.
Movement- instead of thinking of this as exercise, consider moving your body for the sake of joy, self-expression and experiencing the full range of what you can do. Movement can be a meditation that allows your mind to come into alignment with your senses. It's often during physical activity (playing sports, yoga, kayaking, etc.) that you'll receive insights from your intuition because you've slowed your mind down enough to listen.
Creativity- any kind of creative expression that speaks to you (singing, playing music, painting, writing, etc.) will connect you with your inner knowing. Being in creative flow feels fantastic! Getting to know this inner creative nature will help you appreciate and value your body and mind and want to treat them well.
Relaxation- this takes many forms, but what I'm talking about here goes deeper than laying on the couch watching a movie. Find an activity that allows your nervous system to calm down so it can heal. This can be meditation, yoga nidra, or going for a massage or acupuncture. The more time your nervous system can spend in the parasympathetic "rest and digest" mode, the more you'll be connected with your true self as opposed to living in a state of reaction.
How A Self-Loving Person Acts
Sometimes it's helpful to witness self-love in action so you can find a way it fits for you. This list is by no means exhaustive, but here are a few characteristics of self-love that you can look for in yourself. If you're not exhibiting one of these, think about what would need to shift in order to make it happen.
A self-loving person…
Prioritizes needs over wants because they're committed to the health of their long-term relationship with themselves. This includes eating and moving in a way that serves their body.
Sets boundaries in their work, personal relationships and with themselves. They communicate their boundaries with others and feel reassured rather than threatened when others set boundaries with them.
Has difficult conversations because they recognize that everyone involved will be at ease when things are clear and out in the open. While these conversations might be challenging, they're committed to clarity in their relationships so they can be fully themselves and others can too.
Listens to themselves. This often takes the form of a regular practice like journaling, talking with trusted others, or spending time in contemplative thought. They listen to their thoughts and make a point to feel their emotions and use both as an internal guidance system to keep them on track.
Doesn't compare themselves to others. This one can be tricky, because comparison and self-judgement can happen so naturally. But someone who's committed to self-love will not compare themselves to others as a way to boost their ego or to justify self-judgement. Instead, they focus on paying attention to their own life and doing their best.
Practices forgiveness with themselves and others. This takes a deeper level of emotional awareness, which their committed to for their own health and wellbeing.
Speaks kindly about themselves. They treat themselves with the same respect they would treat their closest friends.
Prioritizes joy and fun because they know that they deserve to feel happy, joyful and to do things that light them up.
Remember, like any other relationship learning to love yourself is a process. There are always opportunities to connect with yourself in a deeper way. Stay open and be willing to take them as they come. Which self-love practices will you start with?