Part 1 – What self-love is and what gets in the way
As much as I'm into personal development and spirituality, I still shudder at things that sound super cheesy. Self-love used to be one of them.
The term "self-love" used to conjure up ideas that were somewhere between baths with rose petals in them and a modern revamp of Tupperware get-togethers called "pleasure parties."
I'm sure the rose petal baths aren't all that bad, but I like things that are practical. Things need to be grounded in a purpose for me to want to get involved.
I found self-love through a back door, almost unexpectedly, and it changed my life completely. What I mean is, I found self-love after being utterly unloving to myself for years.
Starting in my teens I dedicated the large majority of my waking hours to pleasing other people. I put my needs on the back-burner in an effort to be the perfect student, employee, friend, daughter, granddaughter, etc.
At the same time, I had my own ideas about perfection which included eating at appropriate times (so as not to tick off my Italian family. Mangia!) and being thin.
There are only so many meals you can reasonably skip before you realize you have a problem. I was about 5 years in before I reached out for help.
It was the combination of months of eating disorder counselling coupled with yoga that allowed me to flip the switch in my brain from self-destructive to self-loving. As hard has it might sound to have to flip that switch, after making the shift it feels harder to even imagine going back.
Committing to stop my destructive behaviour is what returned me to myself. That's when the real work began.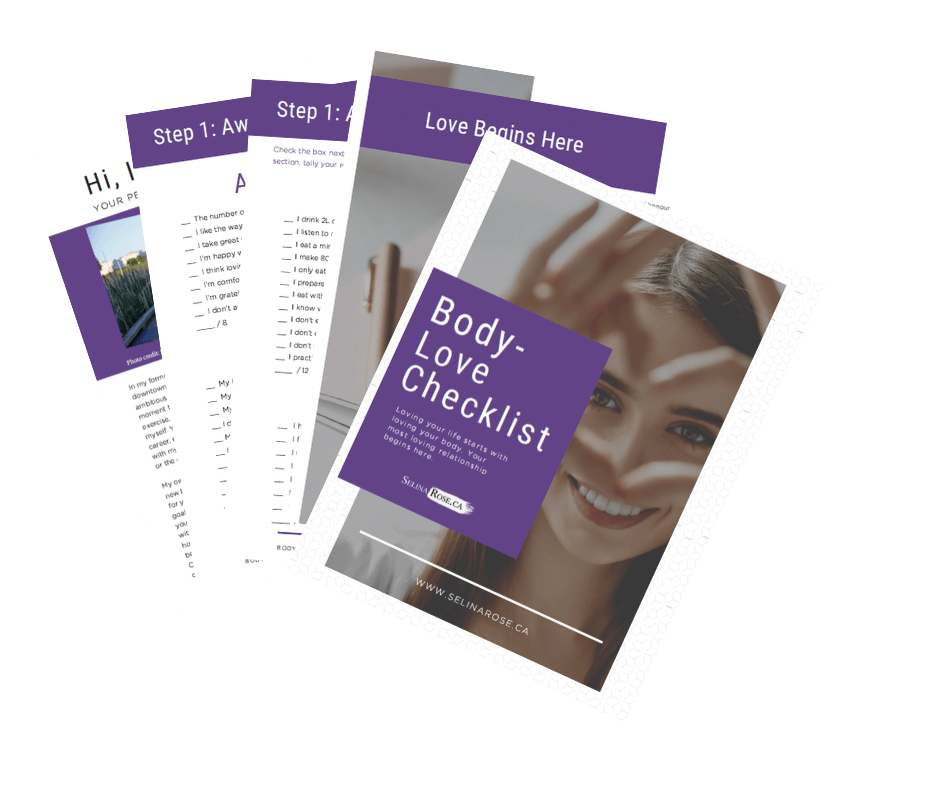 Loving your life starts with loving your body
Let go of shame and self-judgment and embrace your inner confidence with the Body-Love Checklist.
What is self-love anyway?
Today, self-love is a buzz word. It's common to suggest that a friend "love herself more," or that we can't truly love others until we "love ourselves."
Depending on where you are, the idea of living with self-love might sound like the promise land of green grass on the other side of the fence.
What makes up the "fence" between you and that self-love bliss are things like self-destructive behaviour, lack of boundaries, being disconnected from your truth, and dishonoring your body.
Oh, that.
Self-love is a really big deal. It's a crucial component to living well because it influences every choice you make – from picking a mate, choosing your career, your friendships and even the way you spend your money.
Essentially, it's at the heart of your fulfillment. But self-love is deeper than a state of feeling good. It's a state of appreciation for yourself that grows as you take actions that align with your physical, mental, and spiritual growth.
Self-love is dynamic. It grows through actions that develop you into a more well-rounded human. You develop self-love over time by acting with your best interest at heart. As you take actions in the interest of furthering yourself, you begin to have more compassion for yourself as a flawed-yet-perfect human being in your search for meaning and fulfillment in life.
In short, self-love isn't something you attain, it's something you grow.
Love is a Verb
Love is something you feel. It's also something you do.
Recently I got a text from my partner saying, "I washed the dishes so when you get home you can relax." The pile of dishes in the sink had been on my mind since I left the house. I read this and my heart melted.
If you've ever felt overwhelmed with gratitude when your partner, your child, or your friend, does something with your best interest at heart you know that love isn't just a word, it's a verb.
Cultivating self-love is about taking consistent actions that support your wellbeing. This means standing up for what you need even when it might be inconvenient for someone else. It means setting yourself up for a great day by making a healthy lunch the night before, instead of watching an extra half hour of TV. It looks like setting boundaries and managing expectations with your boss so that you can do a great job and be an awesome Mom to your children.
You might be starting to notice something here… acting out of self-love often means doing the un-sexy but practical things that set you up for success. It doesn't always feel good in the moment (though sometimes it does). Sometimes you need to get uncomfortable and have the sweaty conversation that will set you up to feel empowered, respected and free to be yourself in the future.
What gets in the way of self-love?
Learning to love is learning to listen. It starts with tuning in. If you don't know what you need, how can you respond in a loving way?
It makes perfect sense to me that my path to finding self-love came through my body. More specifically, it came through learning to connect with and listen to my body, so I could meet my own needs.
In my experience, the more I pushed down my body's signs, the more vague they became. As I got used to ignoring the signals, my body turned down its cues to a faint whisper until I was left wondering "am I hungry? No wait, thirsty? Does my stomach hurt? Maybe I'm just tired…" It became so confusing I'd often give up and stop trying to listen.
Have you ever felt restless and then found yourself in the kitchen mindlessly drinking wine, or eating anything you can get your hands on?
Here's why that happens: when you don't understand what your body is trying to tell you (probably that you're tired, lonely, or need a break) you're more likely to respond in a way that numbs the feelings that are coming up. The farther you move away from feeling, the more disconnected you become.
That's when it's easy for self-destructive behaviour to slip in. The more you disconnect from yourself, the less pain you feel when you do things to sabotage your wellbeing.
It can be confronting to dip your toe in the realm of self-love; because it means you have to feel. The beautiful thing about this process is that the more you commit to feeling and listening to your body, the less likely you are to mistreat yourself. It's much harder to disrespect the Self that you're connected to than it is to dismiss your Self when you're disconnected.
Just as you can push down your body's cues, the same thing can happen with your inner voice. As you learn to prioritize other things over your inner voice, your truth will get quieter and you might stop hearing it in general.
The good news is you can regain your sensitivity to your body and your inner voice.
5 Essential Steps to Self-Love
Connect to yourself – practices like mindfulness, meditation and yoga can help you connect with your body and quiet your mind so you can hear your inner voice of truth. Other activities that bring you into the moment (like writing, singing, playing music, or spending time in nature) can help you reconnect with yourself as well.
Listen – this is more of a moment to moment practice. Spending even a few minutes in stillness and silence daily is a great way to show your body that you're willing to listen.
Understand the message – here's the tricky part. When you walk into a crowded room and get a funny feeling, you might get the message but not know what it means. At first, listen and watch. It takes time to tell your inner nudges of anxiety and fear from excitement and opportunity. Be willing to get it wrong at first. As you learn to obey your inner wisdom it will step up to guide you more often.
Respond with love – it takes practice to respond to yourself in the most loving way possible. If your knee-jerk reaction is to judge or put yourself down, notice this and choose again. Sometimes the most loving thing you can do is give yourself permission to feel awkward while you figure it out. When feelings come up you can always take space to regroup and decide how you want to proceed.
Feedback – this is your 'reward' for listening and acting according to your truth. Sometimes the feedback will be positive and you'll know you're on the right track (i.e.: you eat something and your body feels better). Other times the feedback will tell you you're off base (you get anxious in a crowd and leave, only to realize it was really excitement and you want to go back).
The journey of self-love starts with the willingness to do so in the first place. Willingness is a softening that allows you to open up and look inside to truly meet yourself. As you listen to your body you'll become more connected with your truth and you'll develop the skill of responding appropriately to your needs.