In my opinion, we're a little too obsessed with the scale. We all want our weight to trend in the direction that's congruent with our goals (some people that's up, by gaining muscle, and for other's it's down, with fat loss). But when you weigh yourself on a daily basis, you're watching the trend too closely for it to be beneficial.
When it come to your weight, and your health in general, there's a certain level of interference from you that's going to disrupt your body's natural process. This is also the case for watching the scale daily because your emotional reaction to (let's face it, a lot of us allow ourselves to be bolstered or cut down by) the number on the scale can create a stress response that causes you to move in the opposite direction of your goal.
We need to realize that weight fluctuations are normal, and to focus instead on the general trend we're seeing on the scale. Better yet – remove the scale from the equation altogether and focus on your healthy habits and the way your clothes feel on your body.
For those who want to know why your weight fluctuates daily, see more in this post.
We all know the frustration of working hard to maintain a healthy body weight, only to step on the bathroom scale and see the numbers going in the wrong direction – or not quickly enough in the right direction!
Here are 7 truths about those normal daily weight fluctuations:
1| Scale weight is not a true measurement of your health. It is simply one of many variables you should be taking into account to determine if you are approaching or maintaining your optimal body weight.
2| When you wake up after fasting – usually for around 12 hours, you're completely dehydrated and at your lowest weight of the day. This is why it's recommended to weigh yourself first thing in the morning after you've voided, and before you eat or drink anything.
3| Speaking of voiding… you can experience daily weight fluctuations of 1-3+ lbs due to waste that could be lingering in your large colon. Who knew poop could be so heavy?
Be sure to keep the bowels moving with plenty of fluids, plant-based fibre and targeted supplementation, if necessary.
4| Your scale doesn't just weigh fat. It weighs muscle, bone, organs, water, and as you just learned – poop!
When you lose weight, it doesn't necessarily mean that you've lost body fat as the average bathroom scale has no way of telling you what bodily tissues you've lost. Weighing "skinny" on the scale does not always translate into healthy off the scale.
FACT: The more muscle you have the more energy your body burns, even when you're just sitting around – due to the fact that it's a metabolically active tissue. That's one reason why a fit, active person is generally able to eat more than say the chronic dieter who is unknowingly breaking down and losing muscle.
5| Likewise, the scale can't tell if you've gained muscle.
Building muscle makes it possible to drop clothing sizes (and lose inches) without a significant change, if any, in scale weight.
THINK OF IT LIKE THIS: a pound of muscle is like a small, compact brick, whereas a pound of fat is like a bulky, lumpy pillow. So that's why when you gain muscle and lose fat, your figure appears slimmer and more firm – but your scale weight may not change much.
6| For all the ladies out there…it's not you, it's your HORMONES!
Some women can gain up to 10 lbs right before or during their period. No joke. This is because of the natural drop in Progesterone just before your period often causes digestive issues like water retention and constipation. And, let's not forget how heavy poop can be!
Our bodies also tend to lose Magnesium in the days before menstruation, which drives our Insulin levels up leading to an increase in food cravings – especially for sugar.
Insulin is a hormone made by the pancreas that keeps blood sugar levels in check but is also considered a fat storage hormone.
7| Speaking of hormones… whether you're a female or not, we're all influenced by stress hormones. Your cortisol level will influence the way your body handles blood sugar which in turn affects your insulin level.
When you're under stress, your body is primed and ready for weight gain. Aside from gaining weight, you're likely to notice bloating as well which might lead you to step on the scale and check things out.
This type of fluctuation is something to watch because staying in your stress response over time will have negative effects on your health and your weight.
If you live a busy life with a lot of responsibility, you're likely under stress on a regular basis. Learn more about how to manage stress and avoid weight gain, by joining the Simple Stress Reduction Facebook Group.
The Bottom Line
These yo-yoing numbers have nothing to do with your long-term progress and they are just part of the overall health optimization journey.
Simply do your best to maintain an overall healthy lifestyle and understand that daily weight fluctuations are completely normal!
"The scale can only give you a numerical reflection of your relationship with gravity. That's it.
It cannot measure beauty, talent, purpose, life force, possibility, strength or love."
— Steve Maraboli
RECIPE
Here's a fresh, high-fibre, plant-powered recipe to keep that digestive system happy and moving along as it should (no heavy poop or bloated bellies weighing you down here!)
Papaya Avocado Berry Salad – serves 2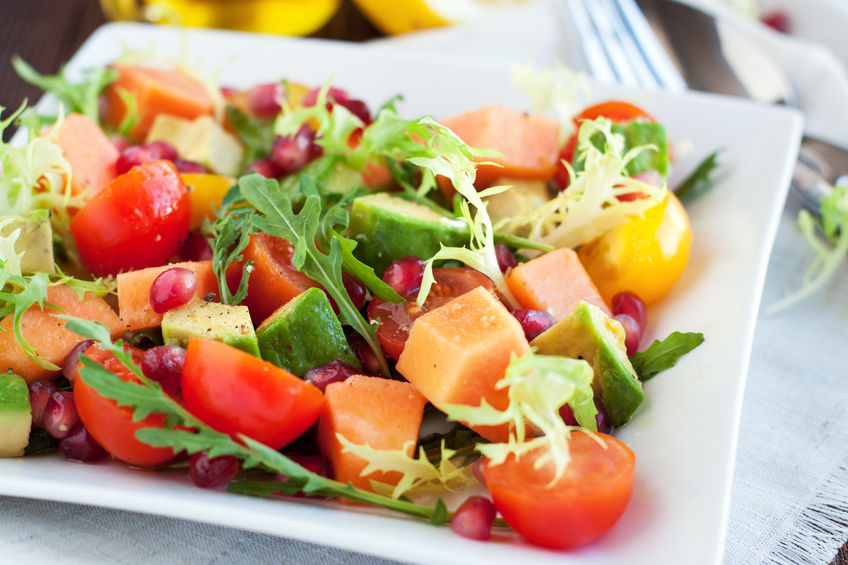 Combine the following in a medium bowl:
– 1 medium papaya, diced
– 1 medium avocado, diced
– ¾ cup cucumber, diced
– ⅓ cup fresh berries, sliced or whole
– 1 handful frisée (or greens of your choice)
– 2 Tbsp. or 4 halves walnuts, chopped & toasted
Then make the dressing:
Berry Balsamic Salad Dressing
– 2 cups mixed fresh berries, frozen thawed ok (like blackberries, blueberries, strawberries and raspberries)
– ½ cup extra-virgin olive oil
– ¼ cup balsamic vinegar
– 1 Tb fresh citrus juice (like lemon, lime or orange juice)
– 2 tsp honey, unpasteurized
– 1 tsp Dijon or spicy mustard
– 1/8 teaspoon Himalayan Pink or Grey/Celtic Sea salt
– Freshly ground pepper to taste
Optional additions: to kick your dressing up a notch, add 1 small clove garlic, chopped &/or 1 Tbsp. finely chopped fresh thyme leaves.
In a blender or mini food processor, puree berries. Place a small strainer over a bowl. Pour pureed berries into strainer, pressing with the back of a spoon to remove the seeds. Return pureed berries to blender or food processor.
Add all remaining ingredients except oil; process until smooth. Add the oil slowly (by teaspoons), again until smooth. Taste, then add more honey, salt and pepper if desired.
Gently toss the salad with 2-3 Tbsp. of the dressing. Enjoy!
REFERENCES: New Health Guide: Weight Gain During Period