Convenience is one of the main motivations driving food choices. I believe that healthy eating can be quick and convenient. In fact, I know this to be true because I don't like spending hours in the kitchen, but I do love to eat nutritious food.
Protein powder is one of the easiest ways to add on-the-go protein to your diet. The quality of the protein powder will affect how easy it is to digest, and how nutritious the formula is.
When choosing your protein powder, pick based on brand and ingredients. Some tips on choosing a quality product:
Buy from a company who knows health – the protein powders I recommend all come from companies like Sun Warrior, Botanica, and Vega who are leaders in the health space. Nutrition and health is what they research, preach, and manufacture. Health is what they do. When choosing which product to buy, the company will give you an initial indication of quality. Though it's still up to you to read the label.
Consider your use – one of the main questions I'm asked as a nutritionist is whether it's better to go with plant-based or a whey based protein powder. For making smoothies as a meal/snack where you're looking for nutrients, I'd go for plant-based protein. If you're looking for a post-workout protein boost, that would be a better time for whey. Though, you could use either one.
Consider what your diet is like on a regular basis. If you eat a lot of dairy already, it would be a good idea to use a plant-based non-dairy protein powder so you get more variety.
Quality ingredients – protein powders often contain flavouring, thickeners, or sweet additives to improve the taste. The best choice for you will depend on how you plan to mix your protein (with water in a shaker cup/ blended in a smoothie). Look for products that don't contain a lot of additives or sweeteners.
For smoothies, choosing a "natural" flavour will make it more versatile (and usually have fewer ingredients) – you can always add cocoa powder to your blend, but you can't take it out of the protein.
Most companies sell single serving sizes of their protein powders. Purchase a few of these to start before investing in the tub to see what you like best.
Variety is key in having a healthy and nutritious diet. Just like you vary your food choices, it's a good idea to rotate your protein powders. Once you find the ones you like, I'd suggest having a few different types on hand. Some have more greens, some are fermented, while others have simple ingredients and are easy to digest.
Each type of protein powder can be used at a different time, or in a different combination to keep variety and boost nutrition on a regular basis.
There are many high-quality products out there. Make sure you do your research to find the right one for you. Here are my top choices:
Vegetarian Protein Powders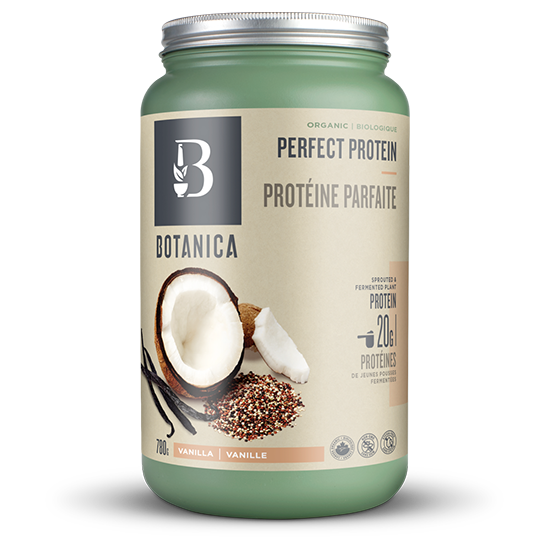 Botanica – Perfect Protein – finally, a protein blend without peas or stevia. The brown rice protein it contains is fermented, so it will digest easily. It even contains coconut, and quinoa to round out the nutrient profile. This one is sugar free,
Sugar Free | Gluten- Free | Soy-Free | Dairy-Free |Non-GMO | Vegetarian.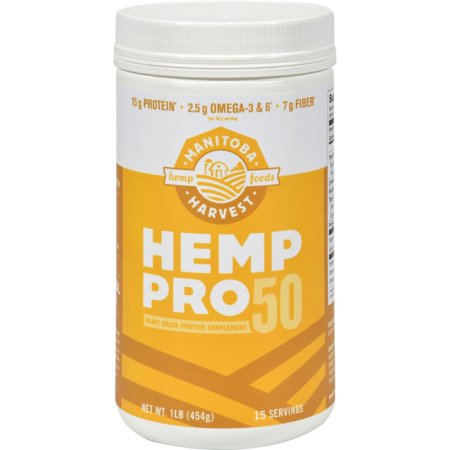 Manitoba Harvest – Hemp Pro—this one is a straight hemp protein. It's easy to digest and the flavour is good when blended into a smoothie. With 15g of protein and 7g of fiber this is a great choice for making any smoothie into a meal. Great for those with sensitive systems, this protein has only a single ingredient: hemp.
There are a few flavours to choose from. This company also makes the Hemp Hearts (seeds you can add to smoothies, salads, oatmeal, stir fry, etc.)
Non-GMO| Vegan | Kosher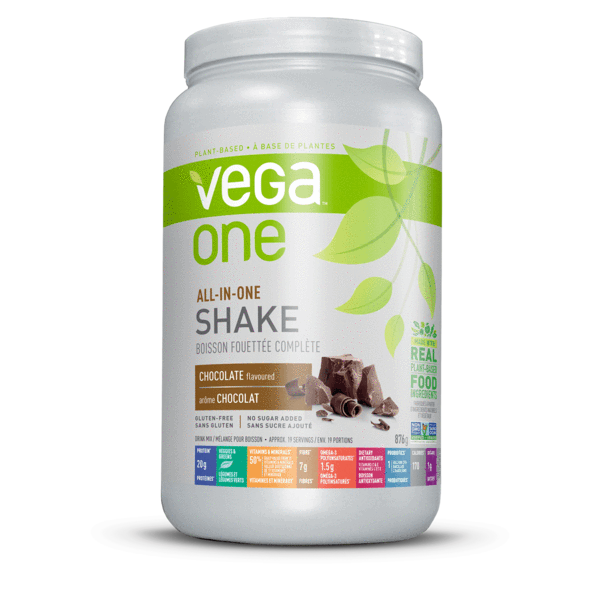 Vega One All in One Shake – this has a lot of greens and other nutrients in it as well as protein including spirulina, maca, and a dried fruit and vegetable blend. Vega One is a great option for morning smoothies or making a meal out of a shake. It's main protein sources are pea, hemp.
Gluten Free | Non-GMO | Vegan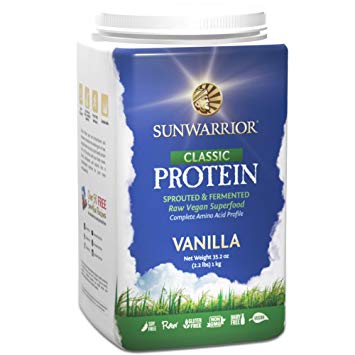 Sun Warrior Classic Protein– Brown Rice Protein Sun Warrior makes brown rice protein that is both sprouted and fermented (two processes that maximize the nutritional value of the protein). With few ingredients, this is a great choice for allergy sufferers because it's clean, simple and safe. Sun Warrior products are vegan and contain no animal products.
Vegan | Raw | Soy-Free | Non-GMO | Gluten-Free | Dairy-Free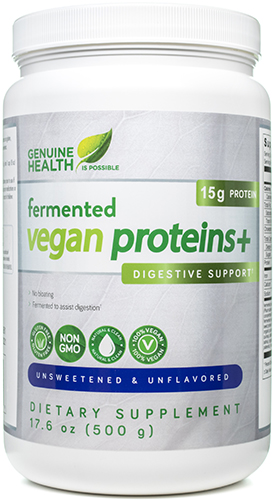 Genuine Health – Fermented Vegan Proteins + – this protein is fermented (partially broken down) so it's easy to digest, and beneficial for your gut. It contains a blend of pea protein, brown rice, quinoa all fermented for maximum nutrition and absorption.
Gluten Free | Non-GMO | Vegan | Soy-Free
Whey-Based Protein Powders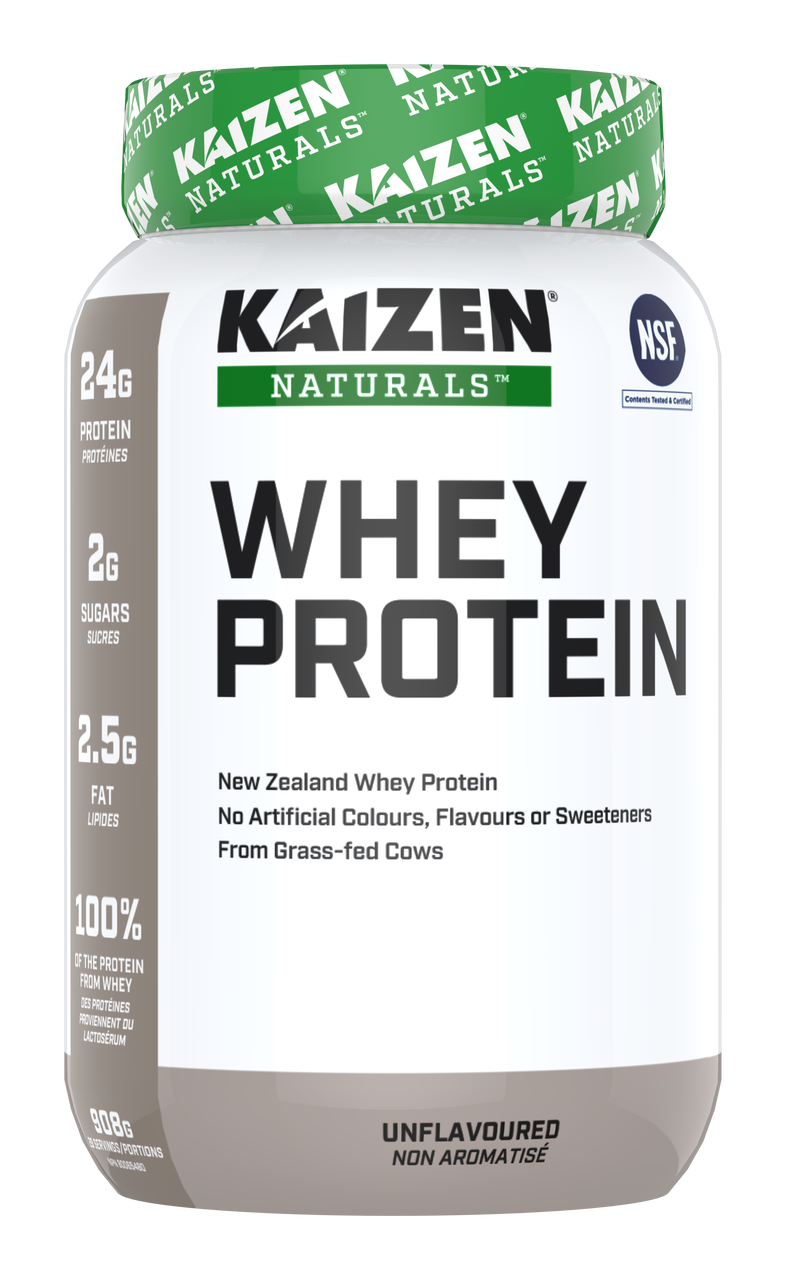 Kaizen Naturals –Whey Protein Powder – Kaizen Naturals has a very clean product line, which includes their whey protein powder. They source their whey from New Zeland cows. It provides all the necessary amino acids for muscle and tissue growth, with very little additives.
Gluten Free | Non-GMO | Peanut Free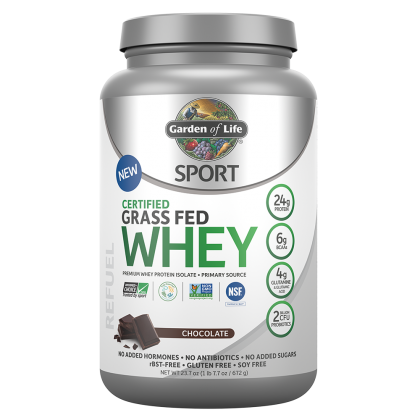 Garden of Life SPORT – Certified Grass Fed Whey – this whey protein comes from a non-gmo, grass-fed source with no added hormones, sugars or antibiotics. It also includes a few strains of probiotic bacteria to aid in digestion.
Gluten Free | Non-GMO