We've been talking about gut health on the blog the past few weeks and I've got another gut-friendly post for you.
Taking care of your gut is one of the most impactful things you can do for your health. Especially since there are so many foods and lifestyle factors that negatively impact your gut health (think stress, coffee and sugar!).
You might have heard a lot about the importance probiotics, our friendly gut bacteria. But lesser-known pre-biotics are just as important to maintaining a healthy gut.
In this post I explain what prebiotics are and why you'll want to have them in your diet. If you heat a variety of whole grains and plant foods you'll likely have enough prebiotics in your diet to maintain a healthy gut ecosystem. But if not, check out the list at the bottom of this post for ideas on how to add more.
"Pre"biotics?
Yes! They're the food that we feed the friendly microbes that are oh so important for good health.
Our gut microbes are alive, and they need to eat too. Their favourite foods are known as "prebiotics" and include dietary fibre and resistant starch. That's the same fibre that keeps us feeling full slows down digestion and provides roughage that keeps us regular. Resistant starch helps promote healthy blood lipids. Both of types of prebiotics (fibre and resistant starch) are linked with many health benefits.
Technically-speaking, a prebiotic has three qualities:
It needs to be undigested and reach the colon intact;
It needs to be digested by our gut microbes; and,
It needs to stimulate our health-promoting good gut microbes.
Now that we know what prebiotics are let's dive into their health benefits.
Health benefits of prebiotics
Prebiotic fibre helps keep us regular by bulking up our bowel movements. It gives them substance and form, so they're not too loose. In fact, more fibre is often recommended to help with symptoms of diarrhea. Prebiotic fibre used to be thought of like a broom that sweeps food through our guts, but we're learning more about its health benefits beyond this role.
For example, prebiotics can also help to maintain normal bowel structure and function, and even enhance blood flow to the cells of the colon.
Those are some of the health benefits of prebiotics themselves. But we get even more health benefits when our friendly gut microbes eat and digest them.
For one thing, our gut microbes use prebiotics to make short-chain fatty acids (SCFAs). These SCFAs (e.g., butyrate) can feed the cells of our colon to keep them healthy. SCFAs also inhibit the growth of bad gut microbes, and can even increase mineral (e.g., calcium and magnesium) absorption. These effects are all linked to the slight acidity caused by the acids in those SCFAs.
Dietary fibre also binds to healthful phytonutrients (phyto = plant). These phytonutrients are lost when the fibre is removed from the food. But, when we eat the prebiotic fibre, our gut microbes release these phytonutrients so we can absorb and use them.
Where to get prebiotics
Dietary fibre and resistant starch are the main sources of prebiotics.
Prebiotic fibre is found mostly in plants; both fruits and vegetables.
Resistant starch is any starch (a type of carbohydrate) that goes through most of our digestive tract without being digested. It's not broken down by our digestive enzymes because it's "resistant"… until it gets to our gut microbes in the colon. Resistant starch is found in starchy foods like whole grains and potatoes.
One of the big differences between fibre and resistant starch is that all of the fibre we eat is indigestible. All of it reaches the colon. Resistant starch, on the other hand, is just a small percent of the starch we eat. Most starch is digested and absorbed along our digestive tract, and that part is not considered to be prebiotic. Only the small amount of starch that is resistant to digestion and makes it down to the colon to feed our probiotics is prebiotic.
Prebiotic fibre is found in fibrous fruits and vegetables. It's essentially what's removed when we make juice – the pulp. It's one of the reasons why eating whole fruits and vegetables is more healthful than replacing them with juice.
Here are some great sources of dietary fibre:
Onions
Asparagus
Bananas
Berries
Pears
Resistant starch is found in:
Whole grains (e.g. oats)
Potatoes
Cornmeal
Seeds
Legumes
Green bananas
Starches can be made resistant by cooking and cooling these foods before eating them. The cooling process allows the starches to re-shape themselves into a structure that is harder to digest (i.e., more resistant).
Conclusion
Prebiotics are fibre and resistant starches that feed our gut microbes. And when we feed our gut microbes, they help keep our gut healthy and have other health benefits too.
Do you ever juice your amazingly healthy fruits and vegetables and have a ton of leftover pulp? What do you do with it? I have a great recipe for using that oh so healthy prebiotic fibre in a delicious way.
Recipe (prebiotic): Overnight Oats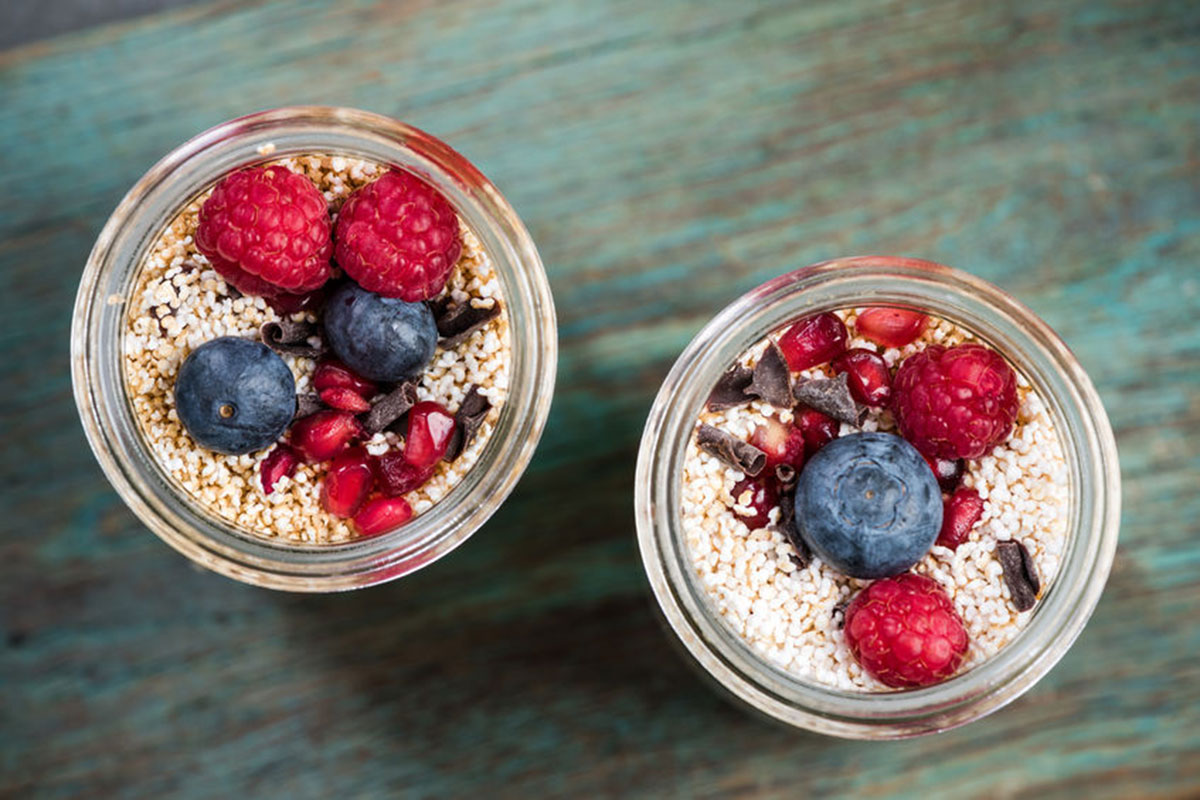 1 cup rolled oats
½ cup coconut milk
½ cup almond milk
1-2 tablespoon maple syrup
1 Tbsp. chia seeds
1 tsp vanilla
½ tsp cinnamon
pinch of sea salt
1 cup fresh blueberries
Instructions
Combine oats, milk, chia seeds, vanilla extract, cinnamon, salt and maple syrup in a large bowl. Stir together until well combined.
Fold in fresh blueberries.
Transfer to two 8 ounce mason jars, cover, and the refrigerator at least 4 hours or overnight.
Serve & enjoy!
Tip: Top with nuts, seeds, or extra fruit.
References:
http://neurotrition.ca/blog/your-gut-bugs-what-they-eat-and-7-ways-feed-them
https://nutritionfacts.org/video/juicing-removes-more-than-just-fiber/
https://nutritionfacts.org/video/resistant-starch-colon-cancer/
https://extension.psu.edu/prebiotics-how-to-feed-your-good-bacteria
https://www.monash.edu/medicine/ccs/gastroenterology/prebiotic/faq