This month on the blog we've been talking a lot about exercise… what to eat before you exercise, how exercise can give you energy and regulate your hormones, and what's the best workout for fat burning. This month wouldn't be complete without touching on a BIG WHY for moving your body (and booty) which is the impact exercise has on your longevity.
When I was studying nutrition I read a book called Healthy at 100 by John Robbins. It had such a profound impact on me, I still think of the lessons shared in that book to this day. At the time, my great grandmother in Italy was celebrating her 100th birthday. So I was thinking a lot about longevity and wondering…Is it really possible to live a healthy 100 years?
Of all the recommendations in the book, one of the things that left an impression was just how much movement other cultures have in one day. Yet for some reason, we in North America (and I'm no different), lead a largely sedentary life. Daily movement is just one of the factors we'll touch on here as I share some secrets from the world's longest lived people- my great grandmother included.
Think living a long and healthy life well into your nineties or even one hundred years old is only for those lucky few who hit the genetic lottery? Think again.
Lifestyle factors,(think: the things you do everyday over the long-term) can add up to increase the number of quality years in your lifespan.
Look no further than the people of Blue Zones for proof of how powerful everyday habits are when it comes to staying healthy for the long haul.
The Blue Zones are regions around the world where people have very low rates of chronic disease and live longer compared to other populations.
They are located in regions of Greece, Sardinia, Costa Rica, Japan, and California, where a large number of Seventh Day Adventists reside.
Because these communities are home to the greatest number of people who live healthfully into their nineties and even hundreds, researchers have studied them to determine just how they age so healthfully.
Think for a minute about how awesome it would be to have several decades after "retirement age" to spend with your grandchildren, travel, pursue your interests and hobbies, or anything your heart desires. Isn't that what you work so hard for now? So that at some point (vacation, retirement) you'll get to reap the rewards.
The very important key to that scenario is being in great health now so you can feel well and stay mobile into your later years. Listen up, because here's some great inside into how to do just that.
You definitely don't have to live in an actual Blue Zone to guarantee longevity. You can adopt some of the well-studied lifestyle traits of these folks to promote health and longevity right where you are.
Here's the top 5 life "hacks" of the world's longest living people:
Eat a Plant-rich Diet
People who live in Blue Zone eat a mostly plant-based diet that includes plenty of fruit, vegetables, beans, nuts, and whole grains. Animal foods aren't avoided – they eat smaller portions of meat a handful of times per month.
You don't have to become a strict vegetarian or vegan, but it's important to eat a variety of plant foods daily – they contain fiber, vitamins, minerals, and powerful antioxidants that help decrease inflammation and protect you from chronic disease, like heart disease, diabetes, and cancer.
A simple rule of thumb is to fill half your plate with vegetables at every meal. Yep, every meal!
Include Healthy Fats
Eat heart healthy unsaturated and omega-3 fats in the form of olive oil, nuts, and fish.
Getting enough omega-3's helps decrease disease-causing inflammation and keeps your heart and brain healthy.
Eating enough fat also keeps you feeling fuller longer, which can help prevent overeating that leads to weight gain – bonus!
Stop Eating Before You Feel 100% Full
Avoid the clean plate club. Eating slowly chewing your food thoroughly gives your brain and stomach time to register that it's had enough to eat.
Blue Zone communities avoid overeating and eating beyond feelings of fullness, which again, can help prevent weight gain.
Drink Red Wine Moderately
Enjoying a glass of red wine per day increases your antioxidant intake, which is thought to decrease inflammation and help prevent heart disease.
Of course, moderation is key. Four ounces of wine is considered a glass and drinking more than that is associated with negative health effects. Read more in my blog about red wine here.
Move Your Body Throughout the Day
Have you heard the phrase "sitting is the new smoking"? As in, it's not good for your health to sit for extended periods of time.
Lack of physical activity and prolonged sitting is linked to weight gain, obesity, and increased mortality. You don't have to become a gym buff, just look for opportunities to add movement into your regular routines.
You might try:
Stretching while you watch tv
Take an after dinner evening walk
Park farther away from your destination
Choose stairs over elevators
Start an active hobby that you enjoy
Take standing and stretching breaks at work
Use a stand-up workstation, and fidget while you work (or dance!)
The world's longest living people live active lives that include daily physical activities like gardening, walking, and manual tasks.
RECIPE
Mediterranean Bean Salad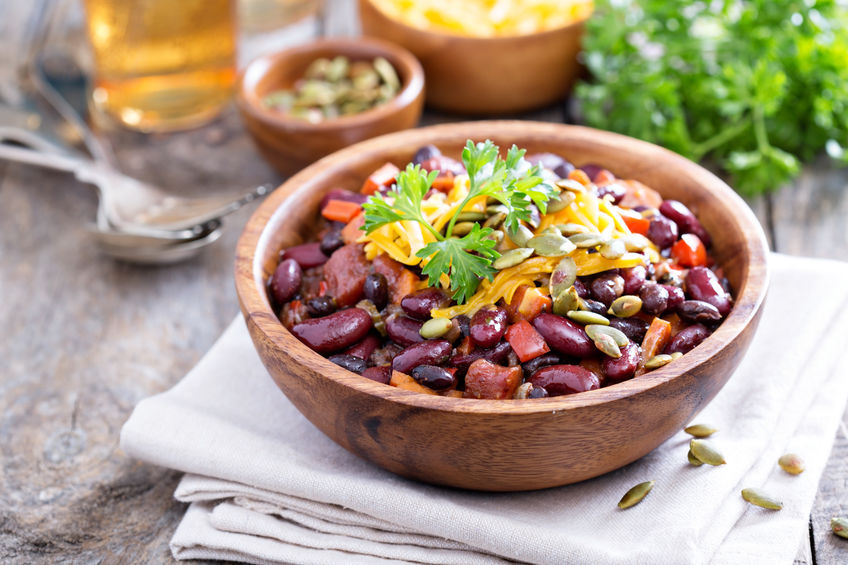 Ingredients
2 15-oz cans of beans, drained and rinsed (use black beans, cannellini beans, kidney beans or chickpeas/garbanzo beans)
1 English cucumber, chopped with skin on
1 bell pepper, diced
1 small red onion, diced
1 cup cherry tomato, halved
1 cup Kalamata olives, roughly chopped
¼ cup virgin olive oil (= longevity oil!)
¼ cup red wine vinegar
2 whole cloves of garlic, minced
1 tsp dried oregano or 2 tsp fresh herb
salt and pepper to taste
Preparation
Combine beans, cucumber, pepper, onion, tomatoes, and olives in a large bowl.
In a small bowl or sealed jar with a lid, whisk or shake together olive oil, vinegar, garlic, oregano, and salt and pepper.
Toss salad with dressing and enjoy at room temperature or refrigerate unused portions.
REFERENCES
Power 9: Reverse Engineering Longevity
Why People in "Blue Zones" Live Longer Than the Rest of the World