Whether you're having a busy week at home, or spending the weekend at the cottage, quick and easy dinners are ideal for summer. Summer is a time for freshness, few ingredients, and making meals with vegetables that are ripe and in season.
Here are my top 10 favourite recipes for quick summer dinners. These are easy to put together, so you don't have to spend hours in the kitchen. That means you can spend more time at the lake, with your family, or drinking wine with friends.
Tip – a lot of summer recipes will use fruit next to proteins like beef, fish, or chicken. While this may be delicious, it puts strain on your digestive system because different foods break down at different speeds.
Instead, have fruit up to 30 minutes before eating your main meal. If you'd prefer to save fruit for a sweet dessert, wait a minimum of 30 minutes (preferably 1-2 hours) after eating so your main meal can digest before eating fruit or dessert.
You'll find this helps with bloating, gas, and acid reflux because it produces better digestion.

A vegan take on the classic egg salad sandwich. Let's face it, sandwiches are easy, especially when you're on the go. Make the chickpea filling ahead of time so you (or your family) can whip up a sandwich in no time. You won't even break a sweat.

Craving a lighter dinner on a hot summer night? This is your recipe! With snow peas, crispy radish and protein from shrimp, look no father for a complete meal. Add some avocado slices, or cashews to top it off with healthy fats and you're good to go.
3. Guacamole Pasta with Sautéed Beef Strips

Your hearty 30 minute meal is here! This recipe uses avocado and Greek yogurt as a dressing for this noodle stir-fry. I'd sub the fettuccini in this recipe for zucchini noodles to increase your veggie count for the day.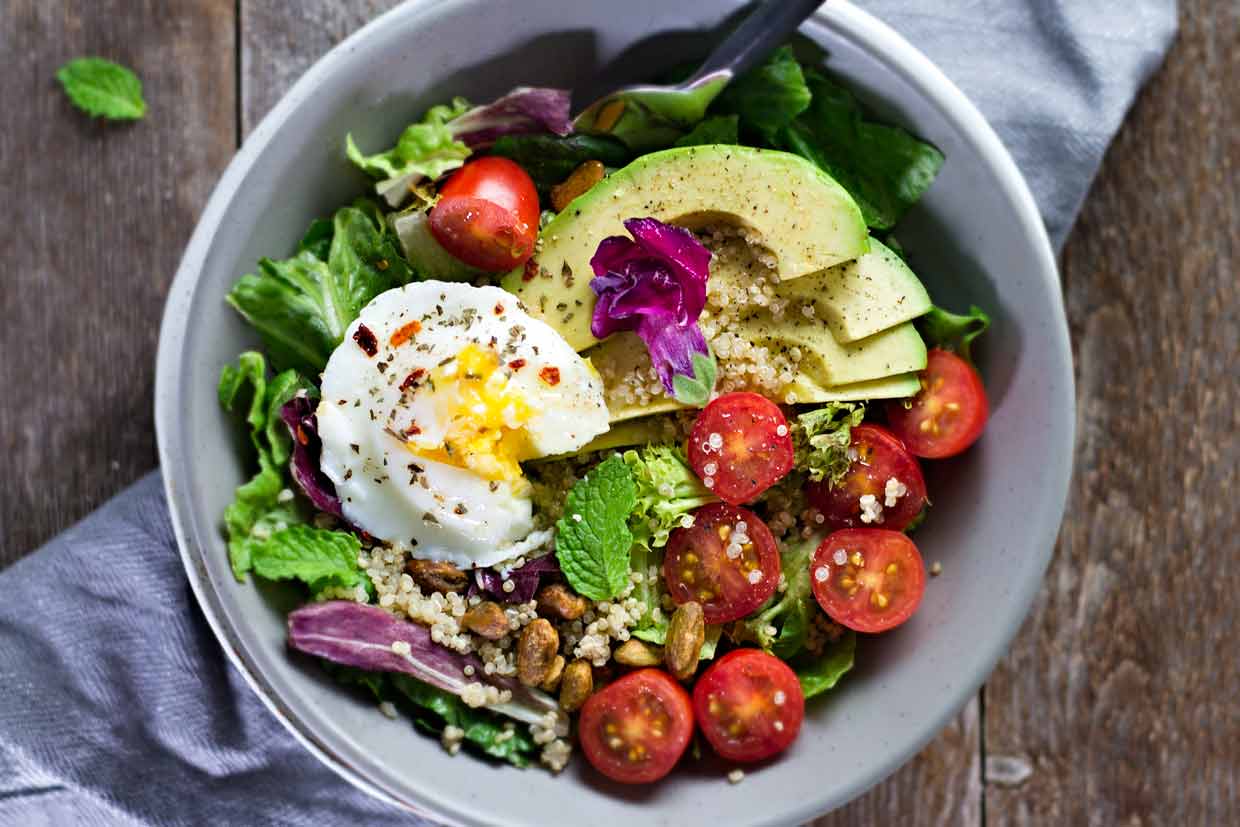 Eggs on salad = genius! For a lower carb option, omit the quinoa and add more grains. I'd swap the pistachios for whole almonds or pecans. This one is quick and easy for breakfast or dinner.

For summer finger foods, lettuce wraps are everyone's best friend. You get all of the good stuff without filling up on refined grains. A taste of Thai is easily achieved in this quick and easy to prepare recipe. Make the filling ahead of time and top your lettuce boats as you need them. *Swap olive oil for coconut oil.
6. Halibut with Tomato Basil Salsa

Fresh tomatoes and basil make a great topping for just about anything. Fish is an easy go-to protein choice for a quick weeknight dinner. Use fresh or frozen halibut (or fish of your choice) for this recipe and watch it come to live in minutes with the salsa topping.

A change from the traditional lettuce, cucumber, tomato salad of my Italian upbringing. This salad's got zest! And it's ready in 5 minutes. I suggest cooking chicken breast ahead of time to chop over the salad.

Have you heard of a courgette? I hadn't either. It's the French term for a raw baby zucchini, and it's delicious in this salad. Chop the ingredients by hand or shave them into ribbons for the most elegant salad you've ever served yourself. Either way, between the fresh dill and mint, this one's a keeper.

Who said salad had to be green? Sometimes (especially on rainy days) it's nice to have a heartier one-bowl meal. This recipe provides. Wild rice is a great source of fiber and vitamins. Oh, and I learned another French term "mange tout" in this recipe refers to peas.
10. Chilled Parsley & Green Pea Soup

I'll admit, I wasn't a fan of cold soups…until this one. Delicious, fresh green peas plus the detoxing benefits of parsley combine to make a satisfying bowl of soup, warm or cold. Dig in, you'll find it's delicious!
Summer is a time for togetherness and enjoying fresh ingredients! These ten winning recipes will let you do just that, with their simple steps and creative combinations of fresh ingredients, you'll have time for what you love and be well fed.
Looking for more resources on clean eating? This infographic breaks down the main points for you.
Bon appetite!